Welcome to Mondo's autumn newsletter. A few weeks ago HELP in Nepal celebrated their 12th anniversary since founding, looking back over their development from a small group of friends eager to support a few schools in Helambu region to the organisation they are today.  It was a fantastic opportunity to reflect on how far both Mondo and HELP have come, thanks to all our loyal supporters!
It has been a busy summer for all our projects… please read on to find out more.
India
Mondo has been accepted to be part of the Christmas Big Give campaign.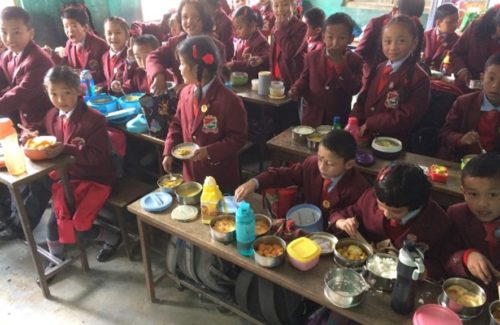 We are hoping to raise money for RIBS (Rhodedendron Integrated Boarding School).RIBS is a school in the Indian/Nepal border town of Maneybhanjyang.  The land RIBS is currently on is rented but the lease is running out after 30 years and they will be evicted.  As a result of this, 188 children will struggle to get an education.  Without RIBS, the children will have to walk for several hours to the nearest government school which is badly under-resourced and where money is also required for uniform and books.   Most parents survive here by working on quinine or tea plantations or as sherpas/mountain guides with only seasonal income which makes this very difficult.  Owning their own school will allow a great headteacher and teaching team to continue to provide vital education to all of these children.  The aim is for us to finance a two storey building – with 8 classrooms and toilets – to be built with local labour on land owned by RIBS which Mondo helped purchase some time ago.
If we can raise £15,000 through our supporters, this will be match funded by the Big Give (and a Mondo benefactor) allowing us to contribute £30,000, enough to rebuild the school. In order to benefit from match funding, donations must be received between Tuesday 29th November and Tuesday 6th December, and be made through the Big Give website…. So please think of contributing or even organising an event to fundraise but don't send any money yet. I will write again nearer the time with the details of exactly how donations need to be made. Many thanks!
 Nepal
This summer we were finally able to start our environmental education project, previously delayed by Covid lockdowns.  Our Nepalese communities are well aware of the effects of climate change having experienced excessive rainfall and landslides in recent years.  This project is training teachers to help their pupils understand environmental issues in their own villages, including the students doing action research projects to understand the changes that are taking place and look at how the community can respond.  This active, team based learning also helps teachers to move away from 'chalk and talk' approaches and experiment with new ways of teaching.  This year, we are piloting the project in two schools but several others have already expressed an interest in becoming involved in future years.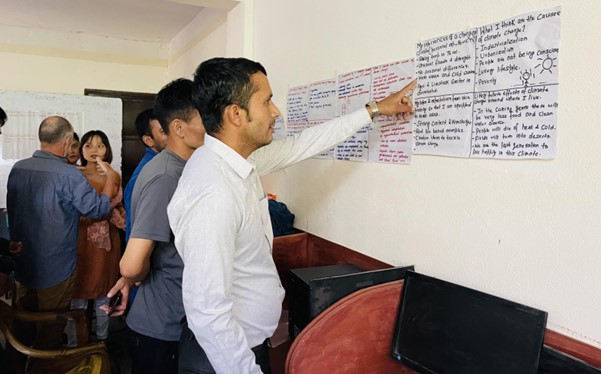 Teachers at Gunsa school discussing climate change causes and effects
Tanzania
This year we have continued our agriculture business project for 40 more women in Arusha/ Moshi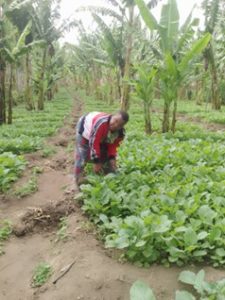 including expanding our project to a new region – Sambasha.  Erneth recently visited the women on their farms here to find out how their planting is going. Namanyak lives in Sambasha and is a single mother with 12 year old twins.  She used the Mondo grant to buy seeds, fertiliser and other inputs for her small farm growing green vegetables.  She explained that before receiving the grant she could not afford inputs for the farm so was borrowing from others and then sharing the profit with them.  Now she is able to work independently and she is expecting a profit of 500,000 (£185) from this crop. She says smiling that her life will never be the same again!
Volunteer! We are looking for a volunteer to help assess the impact of our agriculture and other small business projects in Tanzania.  Working alongside other Mondo staff, the volunteer would interview our project beneficiaries, and collect other data to help us measure success, identify problems and plan for the future.  If you are interested, or know anyone that might be, please contact annabrian@mondofoundation.org
Best wishes and stay well,
Anna, Anthony, Hirsh and all the Mondo Team