As we come to the end of the year, we wanted to give you an update of how our projects and communities are faring across Nepal, India and Tanzania.
Nepal
We are very happy that our five Saathi schools have reopened.   Our teachers took part in a planning workshop during the  Diwali holiday and then travelled back up the schools at the end of November. They are now helping their pupils readjust back into school life taking time to talk through all the stresses of the pandemic.  They are working hard to catch up on the lessons missed during the seven month lock down and also helping their students develop wider skills particularly focusing on  Creativity, Collaboration, Critical Thinking and Communication.   Each teacher is also developing a 'big goal' for the rest of the school year (to April).  Jyoti, one of our Saathi teachers, has set her students' big goal as 'By the end of this academic year, students will organise an English Fair, and every student will participate in the event with their projects around the English language.' We will soon be recruiting for our new Saathis who will start their posts in 2021 and hope to expand the number of schools where this programme operates.
After hours of zoom interviews, the selection was made of the 50 school leavers who were successful in winning Mondo/HELP scholarships this year.  37 girls and 13 boys obtained the scholarship and will be studying diverse courses including health, social work, engineering, education and management. The team at HELP organised a number of online workshops in collaboration with local colleges to support the candidates to choose their course and apply.  We wish them the best for their next two years of study.
In our cover photo you can see Susmita teaching hand washing, Taltuleshowry school!
Tanzania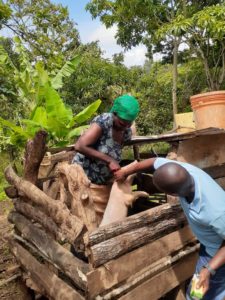 The lock down in Tanzania was lifted 5 months ago and there is no accurate data available on Covid numbers. We are continuing to support our beneficiaries to set up and run small businesses particularly focusing on agriculture and animal husbandry.  In September, for example, a group of women from Kikakiti were supported to buy animals for breeding (pigs, chickens, goats) and given training on how to best care for these animals.  They are now being visited regularly by an agricultural extension worker from Moshi who is helping them to ensure the animals stay healthy.  There is great interest in these visits with many others from the community coming to seek advice.
Here you can see Anande and extension worker Jimmy inspecting her new pig.
India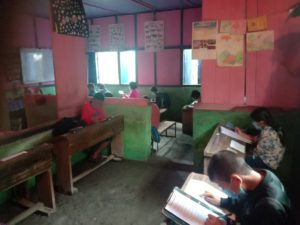 Mondo schools around Kalimpong and Darjeeling have unfortunately not been allowed to fully reopen due to the rapid spread of Covid in this area.  However, the staff continue to find innovative ways to keep educating the children using online learning, distributing worksheets or carrying out small face to face classes with small numbers of children.    Schools would normally be closing for the long holidays in mid-December but most teachers have decided to keep working over the next two months so that they can complete the syllabus.  The hardship fund provided by Mondo was very gratefully received.
Here you can see a socially distanced class at Mount View.