LEARNING FOR CHANGE – ENVIRONMENTAL EDUCATION FOR SCHOOLS AND COMMUNITIES
Climate Change poses particular challenges for indigenous mountain communities in the Helambu valley because as farmers, their livelihoods depend on climate-sensitive natural resources such as water, soils and forest.  In 2022-3 Mondo is piloting the Learning for Change project in collaboration with local NGO CEEN (Centre for Environmental Education Nepal). The project aims to help local school children to understand global environmental issues and also to explore the impact on their own surroundings.  The pupils work to design small local projects to address some of the problems they are witnessing.
At the same time, the Learning for Change project aims to improve relevance and quality in education by introducing more participatory and inquiry-based teaching strategies into rural government secondary schools. The existing method of teaching the curriculum relies heavily on the one-way transmission of knowledge from the teacher to the student. The project's alternative strategies will help young people to acquire the skill sets that will enable themselves, their families and their community to become more self-reliant and to grow and adapt to rapidly changing circumstances.
Pupils at Bhotang school measuring temperature changes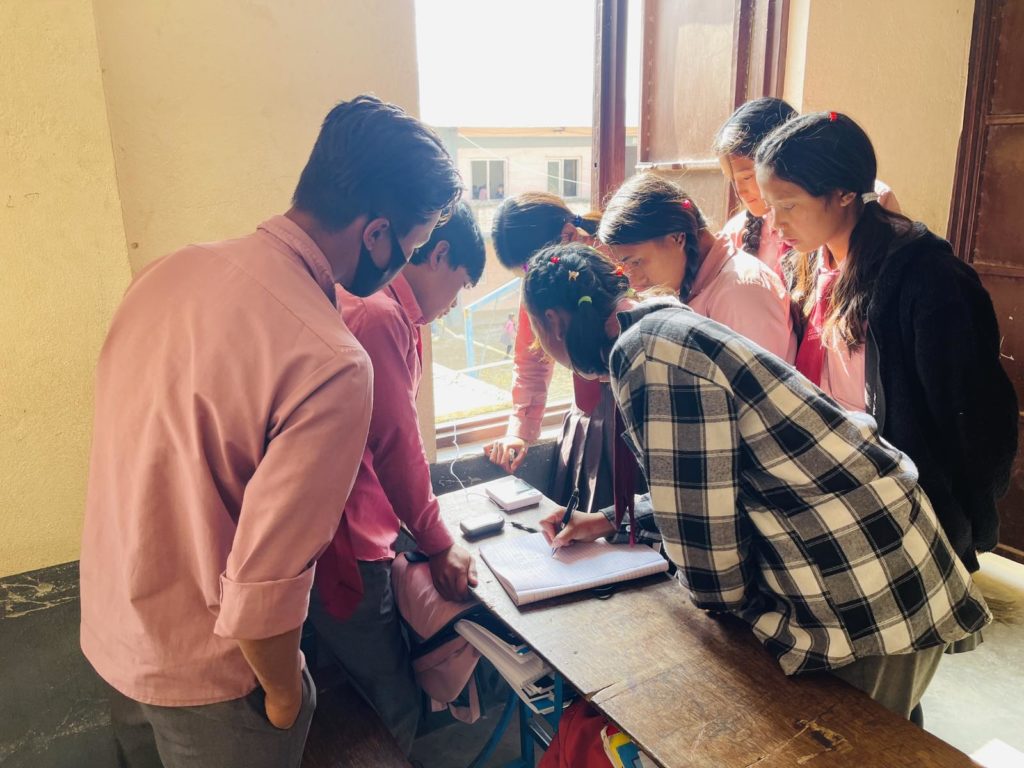 The Learning for Change project has the following components: 
Teacher Training – a series of six workshops during the year to introduce interactive and open-ended teaching strategies based around Education for Sustainable Development, to Class 9 teachers from different subjects.
Teacher-facilitated enquiry into local climate change – young people will learn how to interview family and community members about historic changes in weather and climate; the impact of extreme weather events on livelihoods and nature; collect stories about what people did to survive and recover from these impacts; build their own weather station using sensors and compile local weather records; analyse the information and draw conclusions;
Young people communicate their findings to the community – explore different ways using street theatre, music, social media, workshops and meetings
Finding solutions – young people and community members identify some of the main issues resulting from climate change (social, economic or environmental) that they would like to tackle together and search for solutions from both within the community and outside; agree solutions, identify external expertise if required.
Taking action : Reflecting on action – young people and community undertake collaborative planning and action to improve their situation, protect their environment and take steps towards a more sustainable future.
Learnings – assess skill development in young people (group working, research, analysis, problem-solving, critical thinking, decision-making, leadership, citizenship) and their personal development (confidence, public speaking, respect to others, openness to different views).
Students prepare street theatre to highlight the problems of drought and landslides faced by their communities