In addition to focussing on infrastructure, Mondo is also committed to ensuring that schools are well-equipped. While safe classrooms and facilities are the first step to improving education, the real value comes from well-trained teachers being able to utilise a range of resources to help students grow. A crucial part of our country programme therefore revolves around working with schools to understand their resourcing needs, and to give them the opportunity to create a balanced and creative learning environment. In 2014, only 28% of students from government schools passed the SEE, while 93% from private schools passed. This highlights the importance of improving the quality of teaching at government schools, such as those that Mondo supports.
Here, we explain the steps we have taken to ensure that schools are better resourced and to give students the necessary equipment.
Programme for the Improvement of Quality Education
Striving for Excellence
The Programme for the Improvement of Quality Education has been designed to help to develop self-sustainability in the leadership of our partner schools and improve the quality and effectiveness of the support that we can provide.
Following on from the programme started in the Mondo schools in the Himalayan region of India, in 2017 we embarked on the programme to introduce a method for the schools to drive their own improvements to all aspects of education provision. This is modelled on the approach adopted in schools in the UK but in an adapted and simplified form.
The methodology centres around self evaluation against appropriate aspirations. To ensure maximum buy-in to the approach and that it truly represents the situation, needs and desires of the Nepali schools our first stage was to work with the schools to agree what should be the aspirations of Mondo schools in Nepal against which they would measure themselves.
Each of the schools has now evaluated their own status versus the agreed set of aspirations which cover five areas – physical fabric & fittings, management & leadership, learning & teaching, curriculum and behaviour & values. The simple summary document they use enables them to pinpoint the evidence that supports the evaluation and to recognise the areas which are highest priority to focus on to achieve improvement.
Later stages will focus on the planning of improvement activities and monitoring progress and in due course the method will work as an annual cycle and will enable experienced volunteers to assist the schools own improvement impetus.
School Equipment
Equipping Students to Excel
We have invested in new educational and sporting equipment for our partner schools to enrich education.
In Nepal, there are widespread shortages of basic equipment such as desks, pens, textbooks, let alone more specialised equipment such as for science labs. In the Valley, we found that well trained teachers in safe, spacious classrooms faced huge difficulties teaching due to these shortages, draining both student and teacher motivation.
In addition, have provided libraries where students are encouraged to take books home. Itself a revolutionary idea as teachers feared losing the few resources they had, we now see that this is encouraging students to continue their learning beyond the classroom.
We have also provided sports equipment to facilitate extra-curricular activities and encourage students to take part in team activities. Importantly, this helps students prepare for the very popular Himalayan Games! Musical instruments have also been funded to encourage a broader education.
Beyond simply equipping the students, these bags also help motivate students to stay in school. Once they have the equipment they are more excited to attend school and use the equipment. The equipment also enables students to participate fully in lessons which we hope will increase the quality of education they receive.
Importantly, these bags are refilled on a yearly basis, ensuring students are resourced for each year of their education.
We are proud to be partnering with School in a Bag, an initiative run by the Piers Simon Appeal, in distributing these school bags to students to give them the resources to succeed.
"We have valued our partnership with Mondo enormously 

during

 the last five

 years in which we have delivered over 10,300 SchoolBags to students in over 50

 schools. What is especially wonderful is 

that these

 SchoolBags are made in Nepal, with supplies sourced in-country, therefore strengthening the local economy. We have seen first-hand how this practical, personal donation to each student is giving them self-worth and an identity as a learner – we'

ve also 

received reports from schools since SchoolBags have been distributed, telling us that both grades and attendance have gone up, which is just fantastic. 

We are looking forward to continuing, and growing, our partnership with Mondo over the coming years and giving hope to many more children".
– Luke Simon, Founder of School In A Bag
Himalayan Games
Friendly Competition Between Schools Boosts Community Spirit
News of the Himalayan Games has spread far and wide, even making the daily national which noted that Nirmal Ghimire, District Education Officer at Sindupalchowk, inaugurated the event and that Minister of Health, Gagan Kumar Thapa, attended the closing ceremony and distributed prizes and certificates.

Read more here!
In February 2012, we organised the first ever Himalayan Games – an inter-school event between our partner schools. The underlying motive for organising the event was to enable our partner schools to create a more vibrant learning environment through the inclusion of regular extra-curricular activities. Another set of Games took place in 2014 and most recently, HELP organised, hosted and ran the 2017 Himalayan Games at Shree Satkanyamati Secondary School, Gunsa, Sindhupalchowk.
The most recent games attracted over 430 students from 27 different partner schools competing across 19 sports, including volleyball and table tennis amidst hundreds of cheering spectators. A hugely successful games saw the collaboration of many communities and brought together children from schools across the valleys to compete and share ideas.
The march-past on the first morning of the games was emotionally touching as the children walked through and past the houses in Gunsa village which had been affected by the earthquakes. Scenes of the destroyed houses were a vivid reminder of the deadly earthquake, which had a death toll running to almost 50 villagers in Gunsa alone.
The Games were therefore a chance to bring happiness to the valley, and to help students overcome the emotional trauma of the disaster.
In running the games, we are helping children to grow their confidence and promoting the importance of extra-curricular activities with teachers. Most of all, the Games allow students to interact with peers from across Helambu, forming long-lasting friendships and partnerships!
Scholarships
Supporting Students to Pursue Further Education Opportunities
HELP scholarships support promising students who cannot afford the tuition fees beyond the SEE (Secondary Education Examination) from government schools in the Helambu region. The scholarship enables them to continue their education and take the Plus 2 (the equivalent to A levels). To date, we've supported 271 students in continuing to higher education.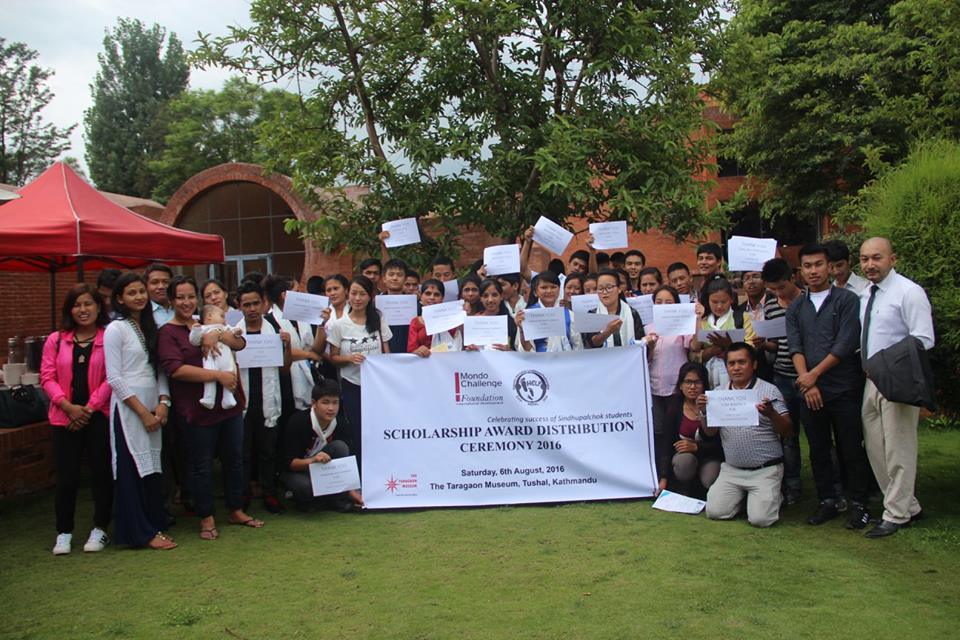 Saathi Project
Enabling Teachers to Develop their Teaching Methods
This is a pilot project which will greatly improve the quality of primary education in five schools for children aged up to 12.  We will provide intensive training to 10 teachers, 2 in each school. These teachers (named 'Saathi' meaning 'friend') will be regularly supported with further training and reflective sessions and will become a resource for their school, passing on their skills and knowledge to the wider staff.
Mondo's current priority in Nepal is to ensure there is an inspiring and stimulating learning environment within all the classrooms we have rebuilt since the earthquakes.
We wish to ensure that teachers throughout the primary schools are equipped to teach interactive lessons that can effectively reach children of different abilities. The Saathi teachers will become model teachers in their schools. They will be co-funded together with the PaanchPokhari Rural Municipality in a 75/25 shared model.