The 30 children in the pre-primary class at Satkanya school were delighted when they saw their new classroom refurbished by Mondo.  The school was badly damaged in the 2015 earthquake and two classrooms were rebuilt 3 years ago. However, before this support the classroom was bare of furniture and had a cold concrete floor.  Now the children are enjoying a fully carpeted room with small desks and beautiful murals, as well as a great collection of books and toys.
Ashmi Tamang, the ECD teacher writes: "I am very happy to have a brand new ECD classroom. This was a dream come true. We did not expect this much and I have never seen a support of this scale. I thought we will receive some educational materials and some furniture but this is beyond our expectation. I now feel proud to be an ECD teacher. I was fed up of not being able to control my class as children never stayed in one place partly because there was no proper sitting and writing arrangement. Now, things will be very different and I feel I can teach my children in the way they need to be taught. Thank you so much."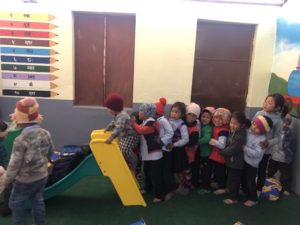 Nima Tshering, a ward chair and local parent commented, ' Thank you to HELP, Mondo Foundation and the Project Solution for doing the first class job here. Not all organisations provide their support with such dedication and care. As a father of a child who goes to this school, I am grateful and as a local ward chair, I think your work has given us a chance to see the level of investment and support ECD children need. I now cannot imagine that children will not want to attend this classroom for they have a variety of items they love, which we are seeing now as they are jumping and playing around, and they can keep themselves busy'.
Mondo Foundation and all the children at Satkanya school would like to thank The Project Solution  which provided the funding for this project.