Welcome to our first 2021 newsletter!  While Covid continues to affect all our programmes, we are so grateful for your support which allows us to continue working with those who need us most – and things are slowly becoming easier.  In Nepal, our schools in Helambu reopened in November and our Saathi teachers were back in the classroom at the first chance, helping the children to catch up on all they have missed.  West Bengal is slower to lift the school lockdown but has recently allowed classes to run for the oldest year groups in Kalimpong and Darjeeling, while younger children continue to receive lessons through remote means. One of our main aims this year is to improve IT teaching here through setting up computer clubs in secondary schools, and we are currently researching what is needed.  In Tanzania, the Covid situation remains uncertain, with little government support for testing or prevention measures.  Our business grants programme over the last few months has been focusing on agricultural and animal rearing ventures which can continue to thrive during this difficult time.  Finally, we are now appealing for applications from potential volunteers, especially trained teachers: soon, we hope, we will be able to travel again!
Agricultural grants, Tanzania
Since September, 60 women in our Tanzanian programme have been supported to start new agricultural businesses.  Mondo Tanzania has provided them with grants to rent land, buy seeds and fertiliser or purchase pigs, goats or chickens. Initial training has been delivered by government extension workers, helping the women with all the technical aspects –how to identify soil types and choose crops, or to provide good care for their animals.  Our farming specialists have gone on to visit the women each month identifying any problems they are facing and ensuring they can make a success of their venture.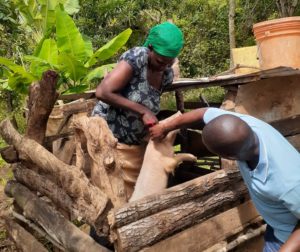 Ananda was one of the first recipients last year. She is 43 years old and is a single mother with 5 dependent children who all live in a two roomed house 'lent' to them by a relative.  Ananda supports her family by working as a casual labourer on local farms, but the work is seasonal and poorly paid and she finds it hard to provide for her children.  She came to know of Mondo through her ARV clinic and requested help to buy a pig – she knew something about keeping pigs having looked after them when she was younger but had no capital to get started.  Through Mondo she received training in how to build a pig sty, feed and care for the pig and identify common diseases.  On a recent visit, the veterinary worker identified a skin disease in her new pig but this has now been treated.  She hopes to breed the pig and sell the piglets later in the year.
Saathi Programme
Our Saathi teachers have returned to their classrooms and are working hard to help the children to catch up with the lessons they have missed.  Our current cohort only have a few months left before they finish their two year placement, so the HELP team is working hard to recruit a new group of teachers.  Last month they visited teacher training colleges in several districts and made a video to attract motivated graduates to the programme which you can view here :
The team have interviewed many promising candidates already, and are now in the process of making the final shortlist of those who will go on to the training stage and then be posted to underprivileged schools in Helambu.  The final number will depend on our fundraising efforts and how many we can afford to support – do please consider donating to this programme which makes such a difference to the quality of education in these remote schools.  You can donate through our justgiving page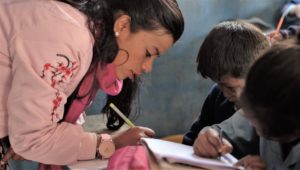 Volunteers – We have missed you!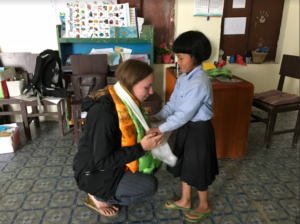 We were very sad to suspend our volunteering programme throughout 2020 and will continue to do so until we feel the situation is safe both for our volunteers and our schools in India and Nepal. However, with the vaccine roll out we do see a light at the end of the tunnel and are really keen to recruit again so we are ready to go when the time is right.  We are looking particularly to find trained teachers (EFL, primary or secondary) to work alongside our Saathi teachers sharing ideas about lesson planning and classroom management and delivering lessons together.  By helping to train and support teachers in this way you will be increasing your impact and making a long lasting change. We also need volunteers for our ever popular partner schools around Kalimpong and Darjeeling.
Have you volunteered before and would like to go again, or do you know someone who has recently retired from teaching who would like a completely unique experience working in India or Nepal? Many of our volunteers hear of us from other supporters so we rely on you to spread the word.  Read about some of the teachers who have recently volunteered with us at Volunteer Profiles and pass it on!
Best wishes and stay well,
Anna, Anthony, Hirsh and all the Mondo Team