Thank you for taking the time to read our summer newsletter!  Sadly, since I last wrote, the Covid situation in India and Nepal has worsened considerably, as I am sure you have heard, and Mondo supported schools in both countries are back in lockdown. We are trying to find the best way to respond to this situation while keeping our own staff safe.  In India we are supporting our schools to survive this latest lockdown, again providing a hardship fund for teachers and covering essential expenses for the schools, where staff are continuing to provide distance learning to pupils at home. In Nepal the HELP team have raised funds to provide health centres in Helambu with medical supplies and most of these have been distributed. However, as this work was ongoing, Sindupalchok has been hit by terrible flooding as you may have seen in the news, so we now have two emergencies to respond to simultaneously.
Thank you so much to everyone who has contributed so far to our fundraising campaigns!
Nepal, Emergency Response
Last week Jimmy, HELP programme manager, sent us this message:
Two weeks ago, I launched a fundraising campaign to help set up isolation/surge centres in the Helambu and PaanchPokhari region and to help prevent the spread of Covid at the community level where we have worked. As I wrote in my appeal, Covid began to spread fast in the rural villages outside of Kathmandu and the city/border areas. On average, out of 10 who come forward for testing, 7 tested positive. It has been a very tough six weeks to not only live under strict lockdown but to see so many people have lost lives, mostly due to lack of oxygen supply.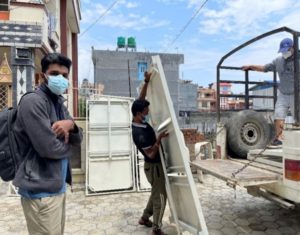 Since then HELP has organised the distribution of essential equipment to 7 rural health centres and isolation units including beds, oxygen concentrators, lateral flow tests and PPE equipment. HELP also provided welfare support to families who have lost income due to prolonged lockdown or are having to self-isolate.
Then, on Tuesday this week, a section hillside near Nakote collapsed in a landslide and this combined with monsoon rains has caused  disastrous flooding in the Timbu valley.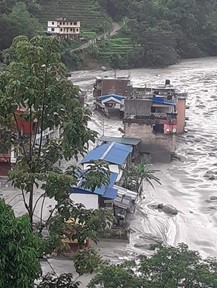 The force of the flood has cost more than 10 lives and over 50 people have gone missing. The flood has swept away buildings near the river all the way downstream from Timbu village to Melamchi. The bridges have been washed away and roads have been cut off in several places, now making travel to villages beyond Chanaute Bazar impossible. The only way to get out to the remote villages of Helambu like Nakote and Melamchigaon is via helicopter. Worryingly, the monsoon has just only begun and people may not have stocked up enough food supplies
We hope to be able to supply the victims of the flood with emergency supplies in the short term such as blankets, tarpaulin sheets, solar lamps and food supplies as well as covid safe kits.  In the longer term we would like to help the most vulnerable families to rebuild houses and businesses.
You can donate to our emergency campaign here.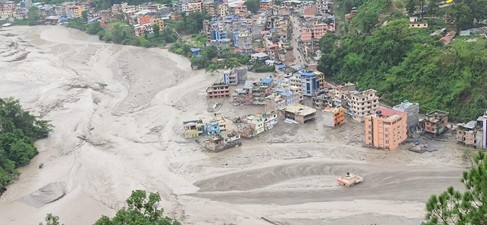 Scholarship recipients give back to their communities
Before the current emergencies in Nepal, there was a period of calm and our education programmes were progressing well.  A high point in April, was a picnic organised for former scholarship recipients.  At this, HELP were pleased to announce the winners of our scholarship alumni prize.  Two grants of £500 were awarded to previous scholars who wanted to implement projects that would make a difference in their community.   Those interested were required to provide a project plan and to present their ideas to a panel of judges. The prizes were awarded to Sushmita Tamang, now a health worker in Jugal rural municipality for her project to raise awareness of the advantages of giving birth in health centres rather than at home : a recent survey showed there were 258 deaths out of every 100,000 live births in Nepal, so her project is very much needed.  Our second winner was Bishnu Mijar who wants to work to end discrimination against Dalit communities, through his 'I am Dalit' campaign.  Congratulations to both the winners and we look forward to hearing about the progress of their projects.
Our cover image shows Bishnu receiving his award at a scholarship reunion event in April
Tanzania harvest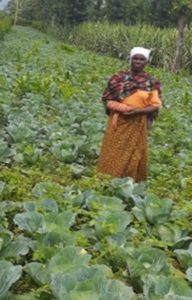 The first recipients of grants through our current agriculture project are now beginning to harvest. Project coordinators, Erneth and Glory recently conducted one to one interviews with the women to understand the impact of the support they had received.  Witness, pictured here in her cabbage field, was very happy with the help she had been given.  She explained that the grant had allowed her to buy quality seed as well as fertilizer and that training and advice from extension workers had allowed her to understand better the spacing and care of the crop.
'I can see a difference in my life because my children are not staying at home as before because of lack of money to buy books and stationery for school. Now they get three meals because I can afford it while before it was morning and evening meals only and was not nutritious food.'
Partnership with Charitable Travel
While it hasn't been a good year (or two) for holidays, perhaps you may be thinking of taking a holiday in the UK this year or travelling abroad in 2022.  If so, please consider booking through Charitable Travel which has taken on Mondo as a charity partner.
Charitable Travel is a social enterprise created to help people book fantastic holidays at great prices, and to help raise money for charities. When you book your holiday, whether that's a staycation or something further afield, you can donate 5% of your holiday price to Mondo Foundation at no extra cost to you! Once the donation has been made, Charitable Travel discount the cost of your holiday by the same 5%, sacrificing the commission that travel agencies make. Charitable Travel sell worldwide ATOL protected holidays from 200 suppliers, and are a member of the Travel Trust Association, so their customers are always financially protected. Find out more at charitable.travel/mondo-foundation or call the team of agents on 020 3092 1288.