Welcome to Mondo's summer newsletter. There has been lots to celebrate in the last few months, with a third cohort of Saathi teachers ready to take to their classrooms, and new equipment for the blind unit in our partner school in Longido.  Our first volunteers in almost three years are also soon to pack their bags to return to Nepal and we wish them well on their summer adventure.
Tanzania- Longido school
Mondo has been supporting the blind unit at Longido school, north of Arusha, for over 15 years.  Through our support the children have received specialist equipment, hospital visits and treatment, glasses, and the wonderful pastoral care of their matron, Carolina, whom we fund to look after them out of school hours.  This has convinced many more parents to enrol their children in the unit and the number of pupils has grown from 9 to 32 children over the last few years.  The headmaster contacted Mondo a few months ago with the happy news that two of his former blind pupils have now gained places at Dar es Salaam University.  This year we will be continuing to support the unit, particularly providing new beds for the dormitories and ensuring that children whose eyesight can be improved, receive the necessary medical treatment.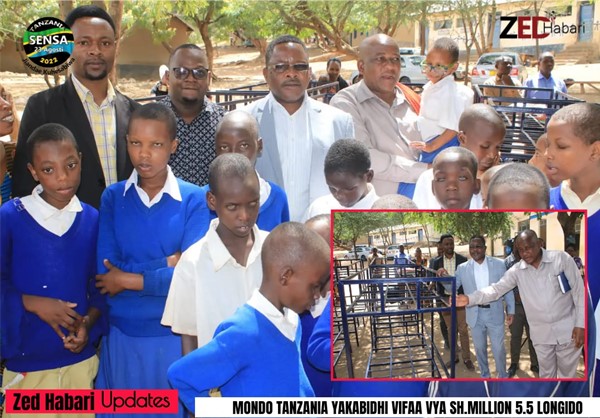 Nepal
Our Saathi programme continues to grow. HELP have just finished training the third group of teachers who will shortly be going to Tripurasundari municipality to start their two year teaching journey.  Among the new teachers is Safina, who explains here how she came to join the Saathi programme…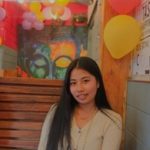 I come from a small place called Thecho, in Lalitpur district. I studied near my community and I was poor academically and faced multiple failures in my school days. I mainly was beaten due to my poor progress.  My mother was the one who was most worried about my grades, and then she decided to put me in extra tuition classes. However, after extra support, it didn't take much time for me to catch up and begin to pass my exams. Then I questioned myself if I was really poor at my studies or was the way I was taught not suitable in my case? My tuition teacher was such an example to me as to how teaching can be different. Now I cannot hold myself from giving back to students like me who require teachers who understand them.
 I started teaching orphanage kids after I passed my higher study. It gave me real happiness to be connected with students. I worked as a Child Learning Facilitator for three years, where I was responsible for students' extracurricular growth and facilitated their academic support. After my undergraduate degree, I sought a platform where I could connect with students in a more creative way – then I landed upon the HELP Saathi Programme. I felt I wouldn't be just a teacher but it's a social service to reach students of rural Nepal. I assure you, my two years will be a lifetime experience of learning. I will be completing this journey by giving my students an innovative space for learning. And as I am an Environment student, I also look forward to raising students' awareness and planning activities for protecting our environment.'
 Volunteers return
Our last volunteer completed her placement in India in October 2019, and since then the Covid pandemic has closed our volunteer programme across all countries for almost 3 years. Our volunteers are sorely missed and we are really happy to see a few of you returning!  The HELP team is really looking forward to welcoming our Cambridge University group who will heading out to Nepal in August and September.  The students will work alongside our Saathi teachers, particularly supporting them to teach English and to share ideas on teaching methods. The students are also raising money for the programme and are busy running, rowing and baking (as well as taking exams!).  We wish them the best of luck with their fundraising and their travels.
Do you know anyone with teaching experience who could volunteer on our programmes in India and Nepal?  If so please direct them to our website (Volunteer with us – Mondo – Mondo (mondofoundation.org)  where there is lots of information on how to apply and what to expect.  There is also a link on the page where you can listen to Mondo's first ever podcast with interviews from former volunteers!  Once you have done the research we would love to hear from you to talk through opportunities, then we ask you to fundraise a small amount for our programmes before setting off on your adventure!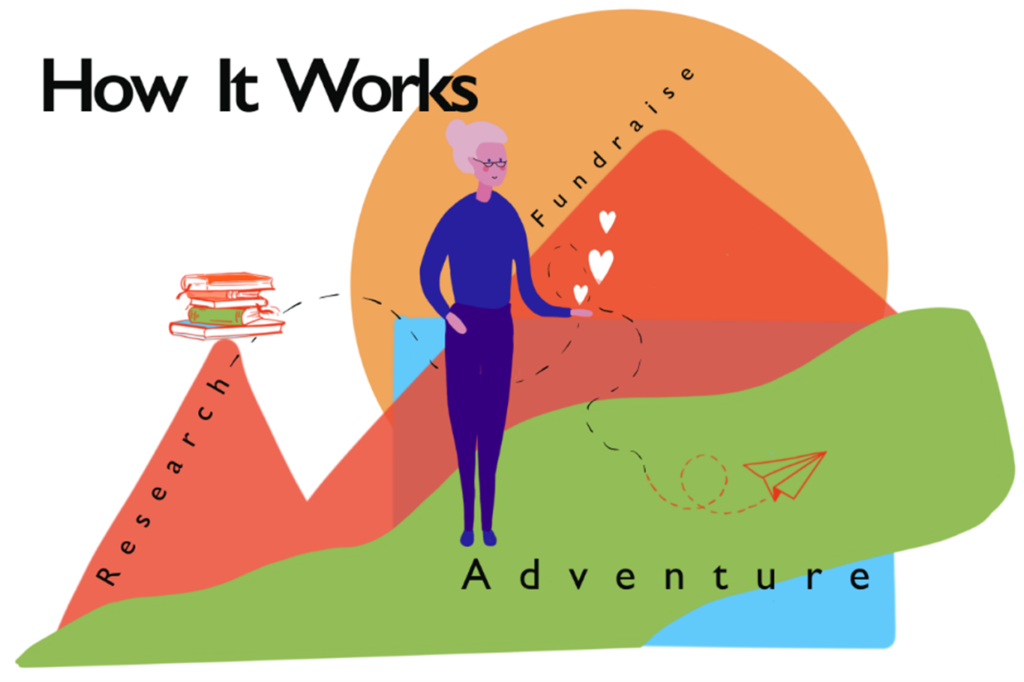 India
The new school year has started well in Kalimpong/Darjeeling with all classes back to face to face teaching.  Unfortunately, Pramod, the headteacher at RIBS has informed us that his landlord can no longer rent him the current school building.  He now needs to find a new place for the 188 children enrolled at the school to continue their studies next year.  Mondo has already helped him to purchase an area of land for the new school, and we will now be fundraising for the building. More on this soon!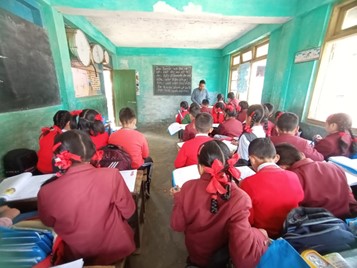 RIBS pupils in their current classroom and (below) work starting on the new building site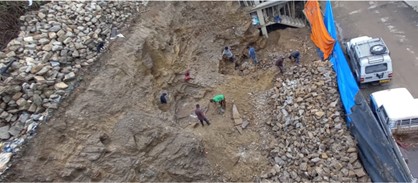 Best wishes and stay well,
Anna, Anthony, Hirsh and all the Mondo Team