Liz (a student mentor/counsellor) and Robert (a retired electronics engineer) tell us about their experiences working and living in a remote village in the Helambu Valley, Nepal.
Nothing prepared us for the stunning beauty of the mountains, our daily view on waking up each day in Nakote.  In February in Nepal, the skies are clear and blue, so the Langtang mountain range towered up into the sky in the valley ahead, as we set off down the hill to the school every morning.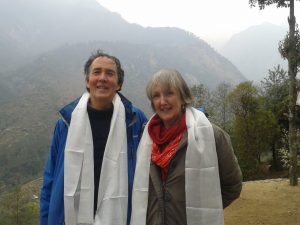 For us, volunteering in a small school meant that we were asked to be involved in a range of activities we hadn't expected.  This was varied and fun.  For example, on Monday, our first day in Nakote, the school was holding a Drawing Competition, organised by Nepali NGOs from Kathmandu.  One of the staff came up to me mid-morning, and said, quite matter of factly, "We'd like you to judge the competition, come up with three winners and present the prizes".  Knowing how subjective evaluating any kind of art can be, I felt a bit apprehensive.  Fortunately,  I  then discovered how precise the NGOs were, when they issued each of the three judges with a very clear, organised check-list of criteria to judge by.  Phew! What a relief.   The winners were, naturally, delighted.  As were the teachers – holding a drawing competition, especially in a small school, ensures that the whole school is quietly absorbed, almost unsupervised, for at least an hour.
While we were in Nakote, Robert focussed on the Grade 8 Maths and Science curriculum for the external National year end exams, at the staff's request.  They had no science/maths teacher.  If the pupils didn't pass/do well they wouldn't be able to move up to the secondary school.  I taught English, Nepali History and Nepali Geography. Despite initially, clearly, knowing almost nothing about Nepali history or geography I  soon discovered thousands of years worth of Buddhas, gurus, kings and princes, not to mention becoming aware of the rich diversity of flora and fauna, and widely differing spectrum of the landscape in such a small country.
Above all though, we were both struck by the community's incredible love of life and the children's thirst to learn and succeed, (alongside their delightful mischievous streak, and sense of humour!). Even when the  air temperature was bitterly cold – many classrooms had no glass in the window frames, many children had thin, inadequate clothes for the cold weather, and were coughing and sneezing fighting off bugs as they shivered at their desks –  the children were still trying to learn and do well.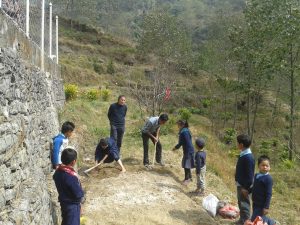 The experience was both thought-provoking and humbling for us.  As was our time in, and experience of,  the village.
We lived in one of only two newly-completed houses  with a roof on (built following the 2015 earthquake).  Despite the earthquake, and despite having no proper homes for almost three years, and having to totally rebuild their houses, the villagers were enduringly welcoming, friendly and positive, and our hostess looked after us beautifully.  We only managed to learn a very basic vocabulary in Yolmo, and almost nothing in Nepali –  "Yabadoo" (beautiful) and "Shimbadoo"(tasty and delicious) were extremely useful words and became our favourites! – but nevetheless we managed to communicate in a way: hearing the villagers' stories, and also their concerns and worries.  Often if the conversation became in-depth, someone who could translate mysteriously turned up!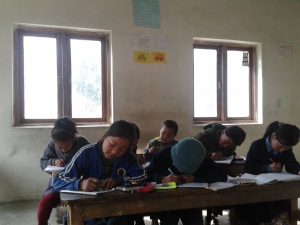 We had thought we would be in Nakote to train,  facilitate the staff, and to teach children, and to an extent we did.  However our four weeks in the village involved far more:  'Holis' – national holidays which happened with almost no warning, on a wonderfully regular basis resulting in village celebrations and shared meals, for example the Flour Festival (Rob's highlight); playing football and games in the school yard; suggesting/organising 'Nakote Games' (a mini Himalayan games afternoon, including egg and spoon races and musical chairs – (already a great favourite); digging and planting vegetables for the school kitchen; clearing out and mending the school Resources room. And as well, as mentioned, being invited  into the numerous temporary homes for tea and more, to be shown how the families were rebuilding their houses – all seemingly with a cheerful and pragmatic sense of determination.
Similar to many other volunteers' experience, when we left Nepal we felt that although we might have thought we were going out to train teachers, and teach in Nepal, we found it had been the children, and Nepali people who had taught us SO much more!