Michael Dennison, an education specialist, tells us about his experiences visiting Mondo partner schools in Nepal and India in May 2018.
I recently retired after a 45-year career in education which ranged from a teacher of modern languages, local authority adviser and director of school improvement, head teacher to Government inspector of schools and education consultant. I was looking for additional voluntary activity in the education sector. It was therefore a propitious encounter when I met Hirsh Cashdan, a Mondo Trustee, and Santa Rai, Mondo's Country Manager, whilst on holiday in North East India.
Hirsh introduced me to Mondo's work in the region and subsequently to PIQUE (Programme for Improving the Quality of Education).  So, when Hirsh approached me a few months later to join Mondo's PIQUE group, I jumped at the chance! Ruth Worswick (another Trustee of Mondo) and Hirsh Cashdan had developed a self-evaluation grid and trained head teachers in the Indian partner schools in 2016 and in Nepalese partner schools in 2017. I was then asked to visit these schools in May 2018 to assess how well self-evaluation processes had been embedded and to organise a workshop for head teachers and other stakeholders in each country.
I spent some time with my wife hiking in the Kathmandu valley, and then linked up with Jimmy Lama (director of the Helambu Education and Livelihood Partnership – HELP, Mondo's partner NGO) and Prakash Shreshta (Schools Co-ordinator).  My attempts at email organisation prior to my arrival had met with minimal response and I very soon realised why: Jimmy and all the HELP team move at such a pace between schools that virtually all of their correspondence and communication is handled over the ubiquitous mobile phone networks which are surprisingly strong in the Himalayas – unlike many parts of urban UK!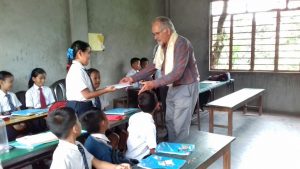 So it was nothing to them to organise, at a few days' notice over the phone, a workshop involving a huge number of stakeholders – including the Chairman and Education lead spokesman of the newly-formed PanchPokhari municipal authority and, most importantly, thirteen head teachers of the HELP/Mondo partner schools – which would have taken me months of organisation in the UK! The welcome, both in Nepal and India, was almost royal in its formality and it was sometimes difficult to ensure sufficient time remaining for the task at hand! Our travelling 'band of brothers' comprising Prakash, Subash (an ex-Teach for Nepal fellow), the jeep driver and I developed quite a camaraderie as we shared experiences such as negotiating obstacles on the mountain tracks, unexpected meals, sleeping in dormitory conditions or even on the kitchen floor of a kindly chair of the school management committee.
One example of the almost innate mountain telepathy operating – or telephony as I dubbed it – was, having str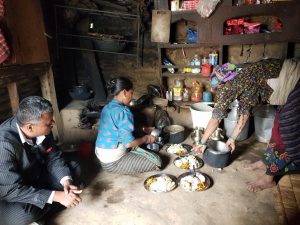 uggled for several hours up a vertiginous mountain track in our jeep we picked up a very dapper gentleman in a pin-striped suit carrying a briefcase. Since I wasn't formally introduced and the animated conversation was in Nepali, I assumed this was a chance hitchhiker – the normal means of covering any distance in the Himalayas. It was only when we stopped at a roadside hut – the occupants had been clearly warned of our arrival – for a delicious Nepali lunch (breakfast and dinner!) of rice, lentil dhal, chicken and spinach, cooked over a wood-fired floor stove, that I was made aware that this dapper gentleman was the head teacher of the school we were about to visit!
Travel between schools in the Kalimpong and Darjeeling area of India is marginally easier: many of the roads at least have a tarmac surface – unless it had been carried away by a landslip or rockfall caused by the unseasonable rains as had happened on more than one occasion. Communication between schools and with Santa's office has been considerably eased since many of the schools in the Mondo Kalimpong partnership have been provided with computers for classroom use. The visits to the Darjeeling schools overlapped with Mondo CEO Stephen's visit to the region. This proved to be highly productive and we were able to share impressions and ideas for development in those few days.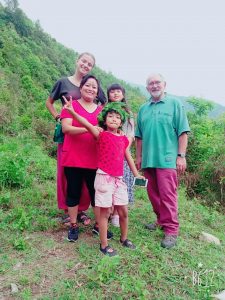 As in Nepal, the school visit in India was always initiated in high formality, with welcoming groups of students standing in serried ranks, always in immaculate uniforms – even the teachers! In one secondary school we were welcomed with an elaborate music and dance display in local costume. A large group of students in another nursery and primary school had waited in rows for almost an hour for our arrival, delayed by the previous school visit, the distance and the slow roads. The reception was planned so that we could award the newly-inaugurated school, house and prefects with their badges.
As in Nepal there was also pleasurable time for relaxation. I spent the weekend re-connecting with Santa's wonderful family in Barranumber with meals, chats and walks in the hills with friends. One sixteen-year-old daughter of a neighbour (also a Rai!) even remembered my son from almost eighteen months before. Whilst in Kalimpong we were twice invited for meals by Premika, Santa's sister who runs a pharmacy in the centre of town. Premika is a marathon runner and her dearest wish is to run in the 2019 London Marathon. My daughter and I are going to support her in this enterprise so look out for the Just Giving notice!