Welcome to our autumn newsletter.  While conditions remain difficult in all our project areas with a surge in Covid cases over the summer in Tanzania, and further landslides and flooding in Nepal in August, our staff remain focused on ensuring long term projects can keep running, as well as providing emergency support.  There is still a lot of good news! Our Tanzania farmers are harvesting a successful crop and our new cohort of Saathi teachers have started in their schools.  Sadly, our Indian schools have not yet reopened, but the teachers are working hard to continue to provide distance and small group learning.  We hope the hardship funds we are providing will see the staff  through this difficult period, ready to welcome students back to school whenever they can. We are very grateful for all the individual donations and trust funding we have continued to receive through these hard times, allowing us to implement our vital programmes.
Tanzania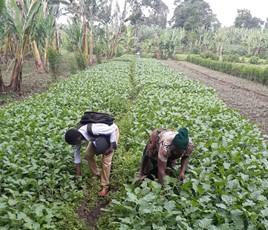 The first phase of our agricultural grants programme is now almost complete. Two government experts, Emmanuel and Jimmy, have been regularly visiting our grant recipients over the last 12 months to check on crops and animals and give further advice on many aspects of effective farming.  They are very popular when they visit and other villagers often follow them round to have their questions answered!  Here is the reaction to the project from some of the women we have supported over the last year:
Emmanuel and grant recipient Sophie checking crop for pest damage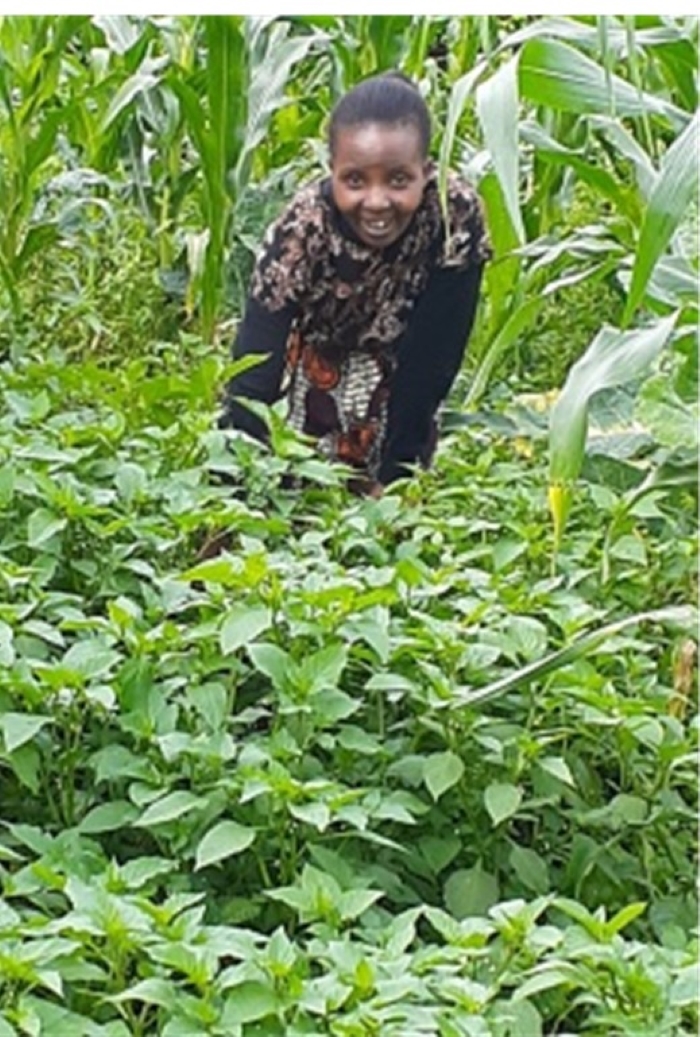 Amani (pictured): 'This support has helped me to increase my crop from 2 sacks of maize to 6 sacks. I am not borrowing money anymore and the children are not sent home from school for lack of anything.'
Janesta: 'The facilitator showed me how to separate the maize and how to see early signs of diseases in the crop.  Mondo should help more women with this knowledge'.
Neema: Mr Sufian helped with the selection of the cassava seeds, and on his visit he showed me how to prune the leaves of the plants. This training was very useful.
Josephine:  I was growing maize but the crop was not good as there was too much rain and many diseases.  The grant and training helped me to switch to growing potatoes and I am now expecting a much better crop.
Afia: Through Mondo organization I learnt to select better seeds and how to use fertilizers and pesticides. After the training I used this knowledge and it helped me to increase the production of vegetables from 1 tonne to 4 tonnes per acre. This is a big change in my life. The organization removes me from poverty to middle income. I am expecting to increase more through the ongoing training that we are still getting each month from the agriculture extension expert. My advice is that the organization, through their team, should continue to provide farmers with training.
Nepal Saathi teacher training programme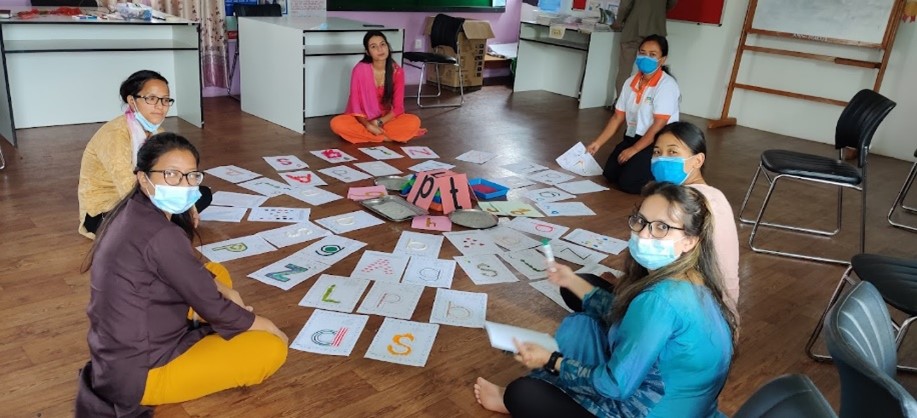 After a rigorous recruitment process, HELP has selected 17 Saathi teachers for our second phase of the programme.  Their training started in April but was interrupted by a new Covid lockdown forcing them to continue online until they could return to the residential centre in June. Sessions were led by experts from teacher training centres in Kathmandu and focused on child development, interactive learning and curriculum planning.  The new Saathis also spent time with the outgoing Saathi cohort who shared what they had learnt on their two year journey. If you want to see more of the learning (and fun!) from the training centre watch this short video: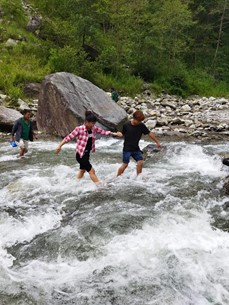 The teachers have now been placed in 10 schools, mostly in pairs but a few individually.  We have expanded the programme across two districts – Melamchi and Panchpokhari.  All schools are providing the new teachers with accommodation and they have been welcomed warmly : the schools were chosen because they are understaffed, some classes having been without a teacher in previous years.  This cohort will focus particularly on maths and English teaching where the lack of skills is greatest.
Conditions remain difficult. The collapse of roads and bridges on the road up to Panchpokhari due to the landslides and flooding made for a perilous journey for many of the Saathis as you can see from this picture.   Some parents also remain reluctant to send their children to school as Covid rates remain high.
Emergency update
Thank you so much to everyone who contributed to the flood appeal for the Helambu valley. In the aftermath of the floods 100 solar lights were distributed by helicopter to families who were without electricity, crucially allowing them to recharge phones and keep in touch with relatives.  Donations were also passed to the government to allow them to construct a walking bridge at Bhotang and to make repairs to Shree Terse secondary school which was badly damaged in the floods.  HELP is now providing financial support to a number of families who have lost their livelihoods due the flooding.  In the upcoming scholarship round, we will aim to provide extra scholarships to children in families affected by the floods so that they can continue their education post 16.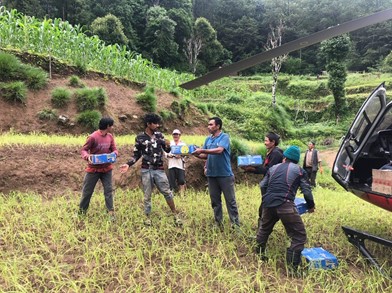 Solar light distribution
| | |
| --- | --- |
| | As ever, you can keep up with Mondo's work and latest news online by following us on Twitter and Facebook  |
Best wishes and stay well,

Anna, Anthony, Hirsh and all the Mondo Team