This spring newsletter was mostly written before the Covid-19 crisis hit both the UK and Mondo's partner countries.  As you know, the development of this emergency has spread so rapidly it is difficult for any news to keep pace with it.  As I write there are 12 cases in Tanzania, 7 in West Bengal and 1 in Nepal.  However, these countries, with their limited health services, are acting fast to stay ahead of the virus and have closed all schools and gone into varying stages of lock down.
Mondo is keen to support our partners and beneficiaries while not continuing any programme activities that could aid the spread of the virus. We are therefore taking each day at a time, and will keep you up to date with what we are able to do.
However, I think you would still like to read the good news from better times – so do read on to find out more what has happened in the last few months (and what we hope to get back to doing shortly!) Michael Dennison (trustee) and myself visited our programmes in Nepal in February observing our dedicated Saathi teachers in their primary schools, as well as taking time so see our many other Nepal projects.  Meanwhile in Tanzania on International Women's Day our business women continue to impress us with their hard work and success.  While Covid-19 is a worry for all our programmes we aim to continue to support our recipients in every way we can.
NEPAL
Visiting Saathi teachers in Nepal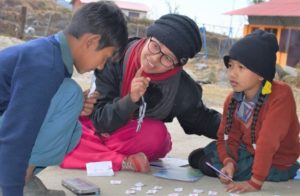 In February, Michael and I were delighted to spend a week visiting our 'Saathi' schools to see the impact these young teachers are making on their pupils and the wider school community. 'Saathi' means friend in Nepali, and these teachers have been trained and placed by Mondo to bring a more inclusive and active learning approach to their schools. We found that after 8 months in their placements schools the Saathi teachers are already making a huge difference – we observed lessons with children highly engaged and able to participate,  saw wonderful displays of the work they had achieved and got to watch some of the extra-curricular activities the new teachers have introduced: football, dance, craft and story time.   Talking to other staff at the school also reinforced the picture – we heard from teachers at all the schools  that since the arrival of the Saathis the children have been happier,  better behaved and more confident.  Everyone was keen that the programme should continue and expand, so we now have a mission to try to make this happen!
Passive Solar Greenhouses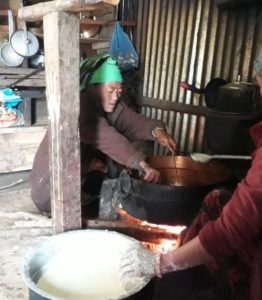 We also had a chance to visit a very different project.  Mondo/HELP have been supporting villagers living at high altitude (above 1800m) to install simple greenhouses.  All materials for the greenhouses are locally sourced, except for the plastic sheeting.  Recipients are given the materials, support to construct the greenhouse and attend a training day on cultivation methods.  This allows them to extend the growing season for vegetables such as tomatoes, cauliflower, carrots, onions, spinach, and herbs providing for family needs around the year and also generating a small income.
We visited Chinmaya Tamang who had recently benefitted from the programme.  She told us that she had planted her first tomato crop a few weeks ago and was keen that we go and see the tiny new seedlings that were coming up through their protective straw ground cover.  She told us she has always bought tomatoes in the market until now, and was excited that she could now save by growing her own.
TANZANIA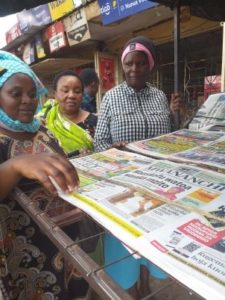 Just before International Women's Day on 8th March, our Tanzanian manager Aretha made visits to our recipients in Boma and Olmiringaringa in Northern Tanzania.  Among the women she visited were Sylvia and Mary.
Sylvia has only just started on our programme which supports women affected by HIV to set up small businesses through start up grants and training.  She received a grant in October 2019 and used it to set up a kiosk selling newspapers and magazines at a nearby bus station.  The grant has allowed her to buy an initial stock and get the business going and the profits are now helping her to make sure her two young sons have all they need for school.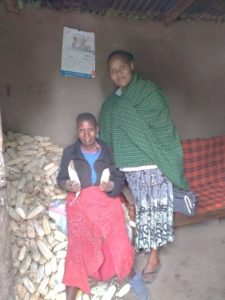 Mary, on the other hand is a recent 'graduate' from the programme, having received an initial grant in 2015 and three subsequent loans to help expand her maize growing business.  She also attended a training last year on agriculture and animal husbandry. She told the team that as a result of Mondo support she now picks 4 sacks of maize each harvest, where a few years ago it was only one.  With her profits she has recently bought a cow – she assured the team she is getting it regularly checked by the vet as advised by the trainer.
Longido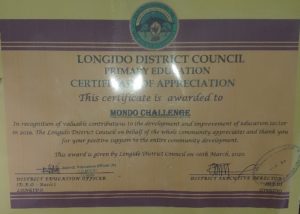 Mondo was recently awarded this certificate of appreciation by the District Education Office in Longido.  We have continued to support the blind unit at this primary school providing teaching equipment, paying for pastoral care and financing regular health check ups for the 22 blind and partially sighted children at the school.
INDIA
Victory for Lotus in interschool Sports competition
Last November in Kalimpong saw the interschool sports competition between 9 Mondo supported schools.  The sports day was hosted by Alpha and included a wide range of sports including traditional flat races and more unusual competitions such as hunt the potato !  A dance competition then took place in the afternoon for which the children had been practising for many months.  Both the sports and the dance competitions were won by Lotus, although Mount View also had their moment of glory as their pupil Youg Rai was nominated athlete of the day.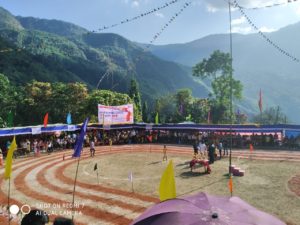 And Finally….
Many thanks to Andrew Allright who is standing down as Chair of the Mondo Board in April.  Andrew is not leaving us altogether but will remain a trustee, while Hirsh Cashdan will now become Chair.
Thank you also to all our new supporters! Welcome to the Mondo family and we hope you enjoy reading all our news.
Best wishes and stay well,
Anna, Anthony and all the Mondo Team