Read the final blog from our CEO's visit to Tanzania. If you've missed the earlier blogs, catch up on Part 1, Part 2, Part 3, Part 4 and Part 5.
A day in Arusha to catch up.  The most urgent task has been to interview another candidate for the Liaison Officer job, Rosemary, and I think we have found what we are looking for!  I invited her to join us at the team meeting this morning, which proved a great success.  The team meeting brought Erneth and Glory together with David Kinisi, Martine and myself.  Rosemary joined in well and as being an ex-teacher, did the writing on the white board!  Lots discussed, particularly regarding International Women's Day in March.  We also discussed the Mondo TZ NGO for which we managed to get our previous local manager, Boniface, to join us.
We finished the day by meeting our previous local manager, Sarah, and catching up on the latest developments in country following the elections last November.
Our last day!  Rosemary came to sign off our agreement to work together. Great news!  I am delighted that the visit has had so many positive results and that we can move forward with a stronger and even more effective local presence.  I never fail to leave Tanzania with many pangs of regret and this was no exception. How lucky the Foundation is to have such dedicated supporters in country and to be able to help so many women and dependents with our grants and loans.  Kwaheri & au revoirl!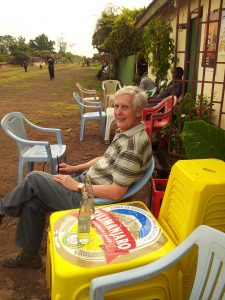 A well earned rest after a long and exciting week!