Mondo has been supporting women in Northern Tanzania since 2005 and we have already transformed the lives of over 1200 single mothers living with HIV.
We provide women with small business grants of £120 together with initial training to help them plan a successful enterprise.  Our experienced staff mentor the women on a regular basis, visiting them at work and helping them make the business a success.  Our beneficiaries engage in many trades – running market stalls, hairdressers, cafes, making bricks, raising animals – and their hard work allows them to support their families and ensure their children are well fed and go to school.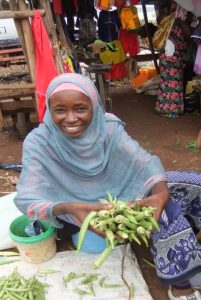 The covid-19 crisis has affected us all, and Tanzania is no exception.  However, the message from the Tanzanian government is that people should keep working.  While other opportunities for income are drying up, our project managers report that our hard working women are still managing to run their businesses, and our local staff are still able to support them.  There is also a long waiting list of women who desperately want to join the programme.  This time of year, just after the rainy season, is a particularly good time for women who want to grow and sell crops.
Can you help us to keep the programme growing during the COVID crisis?  We need funds to pay our experienced staff to keep supporting our existing beneficiaries.  We also aim to give out another 100 grants this year, each providing a family living in extreme poverty with a regular income.  £150 will provide a start-up grant, training and mentoring for one woman.  We have some funding but need your help to raise an additional £5000 to keep the programme running through the current crisis.
To donate please go to www.justgiving.com/campaign/MondoTanzania