Join one of our trustees, Hirsh, as he journeys through the Helambu Valley to visit our school construction projects. We have been working since the earthquakes in 2015 to re-build and re-construct 15 schools in the Valley. Catch up on Part 1 and Part 2!
Today is our second leg of the trip and we are to visit just two schools neither of which I have ever been to before and couldn't be much more different from each other. I am now accompanied by Chiring (who has come up on him motorbike and meets us for breakfast at Melamchi) rather than Jimmy who has had to return to Kathmandu (Jimmy takes Chiring's bike back and Chiring joins me in the jeep).
Taltalesoury is a primary school run by Anita who remembers Gill from one of the workshops we ran. Anita is very competent has good English and clearly runs a well disciplined school. Even better than that she is Montessori trained, which shows in the fact that every classroom is arranged such that the childrens' benches are along the wall so everybody can see everybody. The school goes up to class 5 but has but 3 government teachers. The rest should be funded by the community but the community cannot afford to and so the other teachers have been working for the last 11 months without salary!
As to the fabric, there is a small two room block we built that survived the earthquake but all the rest is in very variable condition but they have enough space and it is all usable.
Bhotang by contrast is a very big school with just over 400 students and goes right up to class 10. The new 12 room building we have started to construct is going well, extensive foundations have been laid for the first 6 rooms but right now the school has a mish-mash of buildings, including amazingly a new two small room block funded by the government and lots of TLCs and sundry other buildings but nowhere near enough for all their needs. Consequently the science lab, library and computer room are not functioning at all as everything is just piled up in one room. I was made very welcome and spent far more time than usual in the classes teaching my favourite mathematical series but also English and various topics that spun off from it.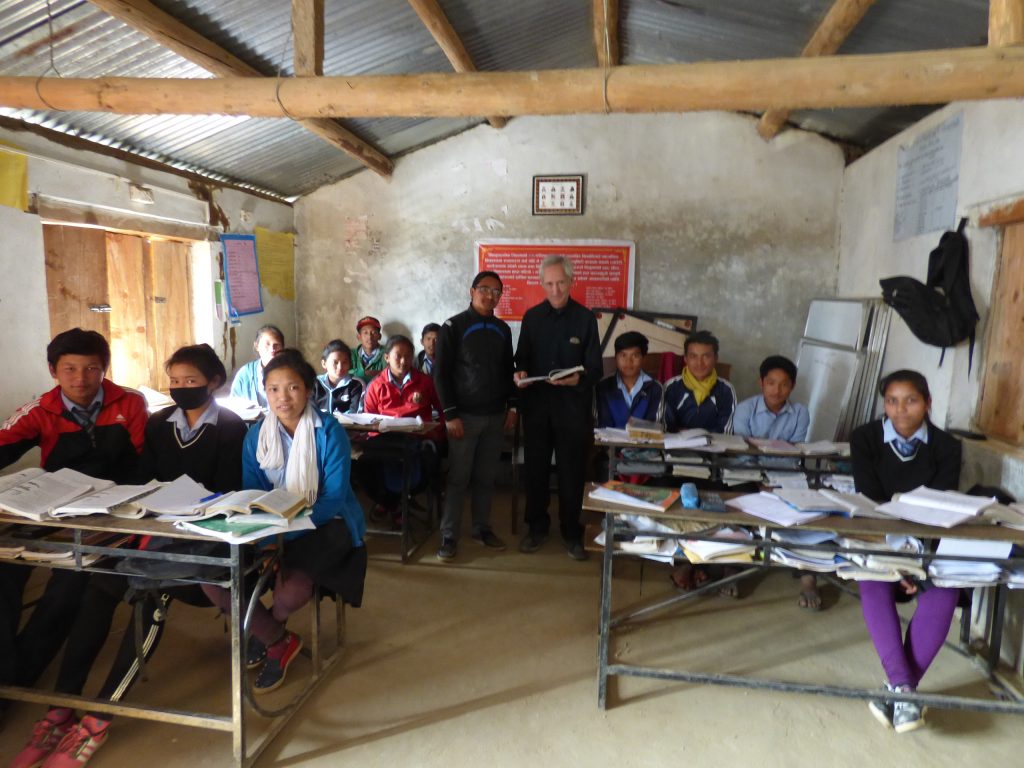 The heads of both these schools will be at my Thursday workshop and when I explained what it was about they both seemed very enthusiastic. Let's hope that shows itself on the day.
We decided to stay here in Bhotang tonight rather than drive down to Gunsa. This has given us a more relaxing day than yesterday was or tomorrow will be but reputedly the view here is very good so if the cloudy haze clears by the morning it will be worthwhile. Off now to walk up to our accommodation for the night – I think at the SMC chair's house