7 December 2015
Earlier this year, Nepal was struck by a number of large earthquakes, the aftershocks of which are still recurring. The sheer scale of devastation was difficult to comprehend and as you know we've been working hard with our team on the ground to respond to the many challenges following the tremors. We started with emergency relief supplies, providing much needed food and basic shelter. Then we turned to the schools, building over 220 temporary learning centres to help some 6,500 children get back to school.
Most recently we signed a Memorandum of Understanding with the Nepali government to completely re build and re-equip 15 schools over 2 years. And things are going well.
Except, winter is coming. In the Himalayan foothills, conditions will soon be bitter and harsh. But the inhabitants of the Helambu valley and surrounds are currently housed in temporary shelters built to last them through the summer. Even for a such a hardy people, corrugated iron sheets and a few blankets will not be enough to help them survive the winter. With many families having lost their winter gear in the earthquake, the situation will soon become desperate. The photos show the condition of the villager's current abodes – hardly equipped to last through the inevitable biting winds, snow and ice to come.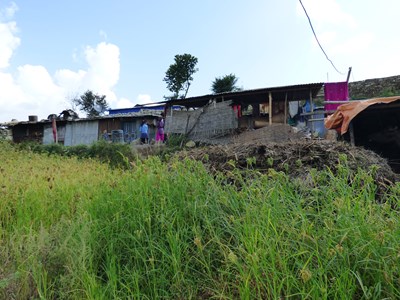 So on 7 December 2015, in the run up to Christmas, we launched our Helambu Christmas Appeal to help us provide emergency winter supplies to help over 3500 children cope this winter in the Helambu valley. Just £10 can provide two children with warm fleeces and tracksuits to help them through the winter, and ensure they don't miss out on their education.
Our partners and generous donors can donate here: https://www.justgiving.com/HelambuChristmasAppeal

Catch up on all of our blogs on the Nepal Earthquake here.