14 August 2015
It has been a little while since our last update, but that doesn't mean that we haven't been busy. Having fulfilled our short term aim of completing enough Temporary Learning Centres to accommodate 6,500 pupils, we have been using the pause enforced by the monsoon to consider our next steps. Ideally, we would like the building of permanent classrooms to commence in earnest once the rains slow and the ground firms up. But more on that in a future update.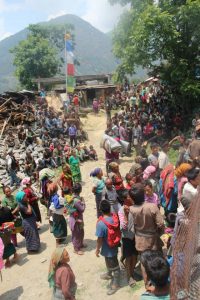 Although building efforts have paused, its been business as usual for our team on the ground in other respects. In particular, the team processed and reviewed 180 Scholarship Applications received from students from over than 30 schools across Sindhupalchok district. By way of background, education in Nepal is only free until students complete their SLC (GCSE equivalent) exams. After this, education becomes expensive and, in many cases, prohibitively so for the students from the valleys. Our scholarships support promising students who would not otherwise be able to afford tuition fees, with the grant enabling them to continue their education to Plus 2 level (A-level equivalent). These scholarships cover tuition fees, books and uniforms.
On 8 August 2015, our local team distributed the Mondo-HELP Scholarship Award to 66 talented and students representing more than 20 schools at a ceremony which had as its theme, the message of "Inspiring and Investing in Younger Generation". After they complete their education the students are expected to return to their schools and volunteer their time, helping to inspire the younger generation.
Catch up on all of our blogs on the Nepal Earthquake here.