30 June 2015
Before giving you our usual update about how funds have been spent over the last few weeks and the giant strides that have been made by our team and local partners, we wanted to set out the text of a dispatch we received from Jimmy Lama, our Country Manager, so you can have a first hand account of the hard work being done on the ground:
"It is quarter past 11.00 pm here but our team is still at work. 40 villagers from Tartong including our dear friend Pemba and Chenga sir are climbing up the Ichowk hill to deliver 125 bundles of CGI sheet to build temp houses for Tartong, Riverma and Phungpuche area (thanks to the funds raised by our previous volunteers) who are forced to be relocated to an area safer to their previous villages. This jumbo army of villagers worked to clear the road blockage to allow the trucks to be passed. It will not be until 1.00 pm that they will reach their village and the trucks we sent have to return back to Melamchipul to avoid getting stuck. We must rush to do this as in few days most roads will be blocked with monsoon precipitation that has begun and the roads are already in terrible shape! Similarly another truck reached Kakanidanda carrying a truck full of food supply enough for 3 months to feed students at Nakote School along with teaching resources and books for Nakote, Gorakhnath, Kakani and Serkathili school. The headmasters of these schools (Mani Prasad Adikari and Som Hari sir) are on this truck! And our friends from Bhotenamlang are on their way with books, teaching resources and tarps.. We just wish the monsoon delays by a week at least. We at Mondo and HELP are pushing hard to do what is needed before monsoon and to get as much supplies as possible to these villages where the road connection will soon be cut off for months and months!"
In terms of vital numbers from the last few weeks:
We are nearing the completion of almost all of our planned Temporary Learning Centres (you will remember from our last update that we had planned to build almost 100 such centres), with 12 schools left to work in over the course of the next few weeks.
3 temporary hostel facilities setup to ensure that children do not have to traverse dangerous terrain to get to school.
20,000 exercise books delivered to over 6,500 children across 40 schools.
100s of additional supplies such as whiteboards for our Temporary Learning Centres.
1000s of shelter kits distributed to build temporary monsoon-proof shelters for displaced families across the region.
More than 40 large solar panels up and running across schools and vital points in the region, with plenty of smaller panels also up and running.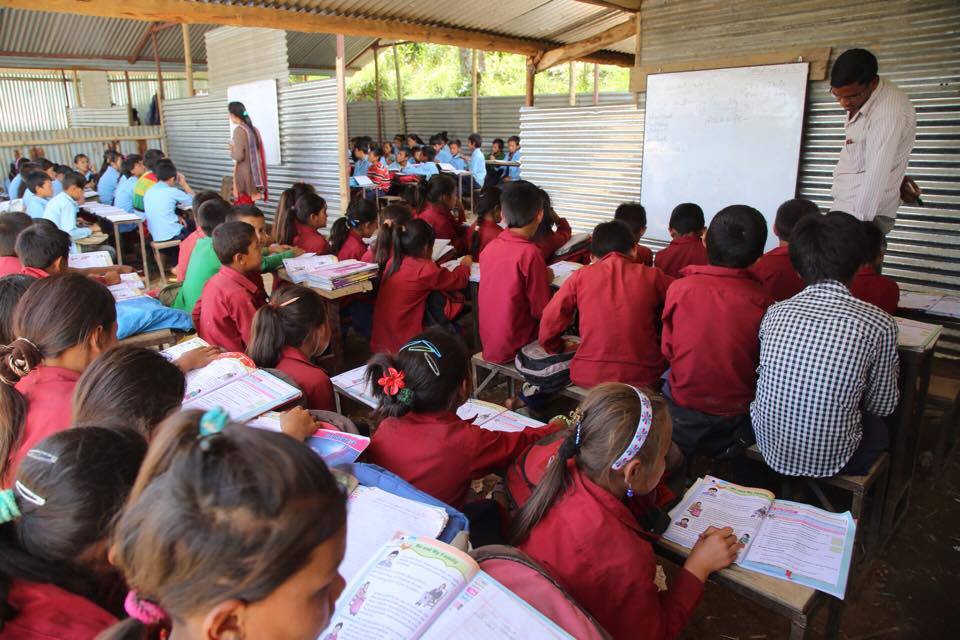 And, most important of all, from the pictures we have received, some very happy children back in school!
The valley will soon be hunkering down for the monsoon, but our Phase II work is nearly complete. Once the monsoon rains ease and the ground becomes less saturated with rainwater, we will commence our Phase III re-building project. We will use the monsoon season to put together ambitious plans for new classrooms, toilets and other buildings to improve education across the valley!
Catch up on all of our blogs on the Nepal Earthquake here.